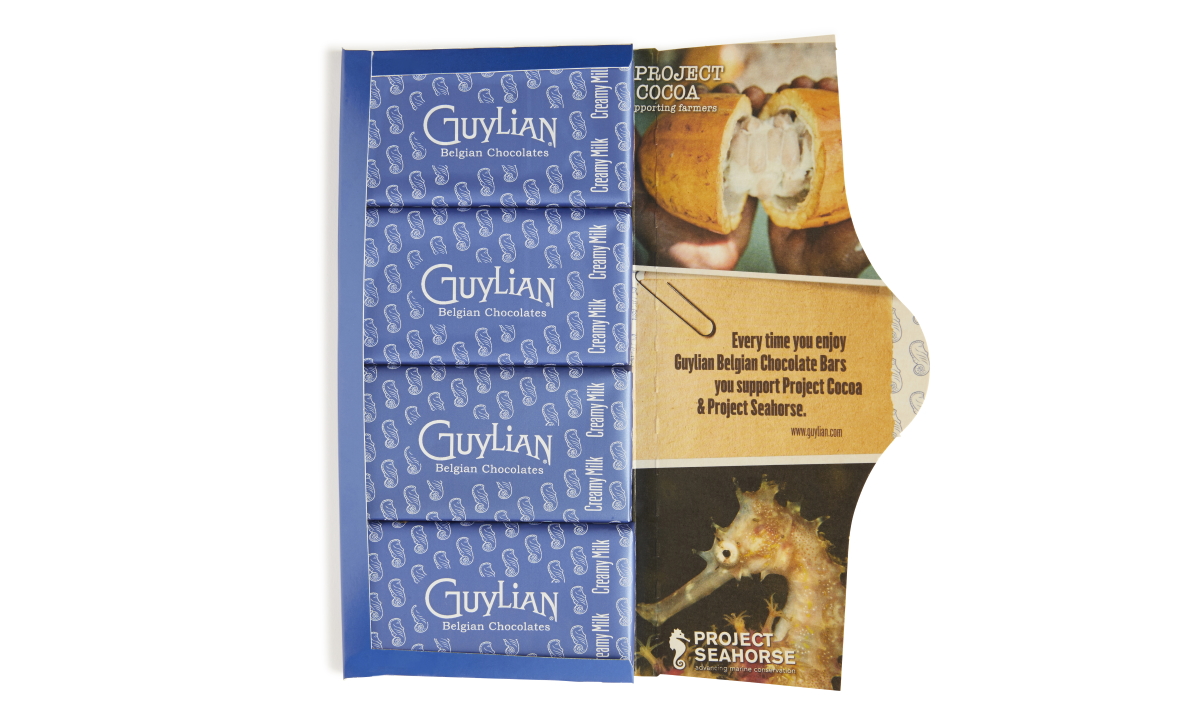 SYDNEY, 14 OCTOBER 2020: Premium Belgian chocolate company Guylian, has today launched a brand new chocolate block, designed to offer chocolate lovers a great tasting indulgence with portion controlled bars to enjoy anytime and anywhere. Recent research shows that 67% of people preferred the portion control benefit of the individually wrapped bars. Therefore Guylian has responded to this growing desire for portion control by introducing small single wrapped Belgian Chocolate blocks now available in IGA Supermarkets around Australia for those who can't stop at one piece of this delectable chocolate.
Guylian's latest innovation is the launch of the NEW Guylian Belgian 100g Chocolate bars: a range of 4 premium varieties of individually wrapped mini blocks (4x25g) made of the finest Belgian Chocolate with 100% cocoa butter, available in exquisite, popular flavours; Creamy Milk, Premium Dark 72%, Hazelnut and Premium Dark 72% with Raspberry; something to satisfy the most discerning chocolate cravings.
Sustainably sourced and supporting the environment, Guylian supports both Project Seahorse and Project Cocoa. Project Seahorse supports the conservation of coastal marine communities, while Project Cocoa is committed to improving the lives of the cocoa farmers, their productivity and reducing their environmental impact. The new individually wrapped Guylian bars have allowed for a 75% reduction of the CO2 footprint per 100g compared to a standard aluminium foil packaging. In addition, with the new Guylian Belgian Chocolate bars made out of 100% sustainable cocoa, as Guylian takes a first step to reach its ambition to use 100% sustainable cocoa by 2025.
Mieke Callebaut, Managing Director of Guylian commented: "Our R&D and marketing team have identified more premium, more indulgent, more sustainable and more healthy chocolate products as the key chocolate category trends, and we have used this insight while developing for our brand strategy to grow our Guylian brand everyday."
Today, Guylian can say that already 99% of its products are palm oil free. Palm oil has been replaced with sustainable shea butter and sunflower oil, resulting in smoother textured and even better tasting chocolates, which are better for the planet and healthier and with less saturated fat.
Due to the fact that they are individually wrapped and have a resealable outer envelope, Australians can enjoy a fresh, indulgent and premium treat on the go for the ultimate convenience. Anywhere. Anytime. The new portion controlled Guylian chocolate bars are available at your local IGA and other participating independent retailers for $4.50. For more information visit: www.guylian.com
ABOUT GUYLIAN: Guylian exports to more than 120 countries and is available in 75% of travel retail shops globally. It is one of the best-selling Sea Shell Chocolate brands in the world. Especially within the segment of Belgian Boxed Chocolates in travel retail. Guylian has a team of 250 employees and produces a wide range of premium Belgian Chocolates in a state-of-the-art facility in Sint-Niklaas, Belgium. It continues to respect its traditional chocolate-making heritage whilst also remaining at the forefront of innovation.
Around the world, Guylian is synonymous with high quality Belgian Chocolates. A unique blend of West-African cocoa beans forms the basis of its premium Belgian Chocolates, which are made from 100% pure cocoa butter. The Sea Shell Chocolates are Guylian's flagship product. Their Hazelnut Praliné filling is roasted in-house according to the original recipe of the founders, using copper kettles. The secret method of roasting and caramelizing hazelnuts gives Guylian Chocolates their signature taste.